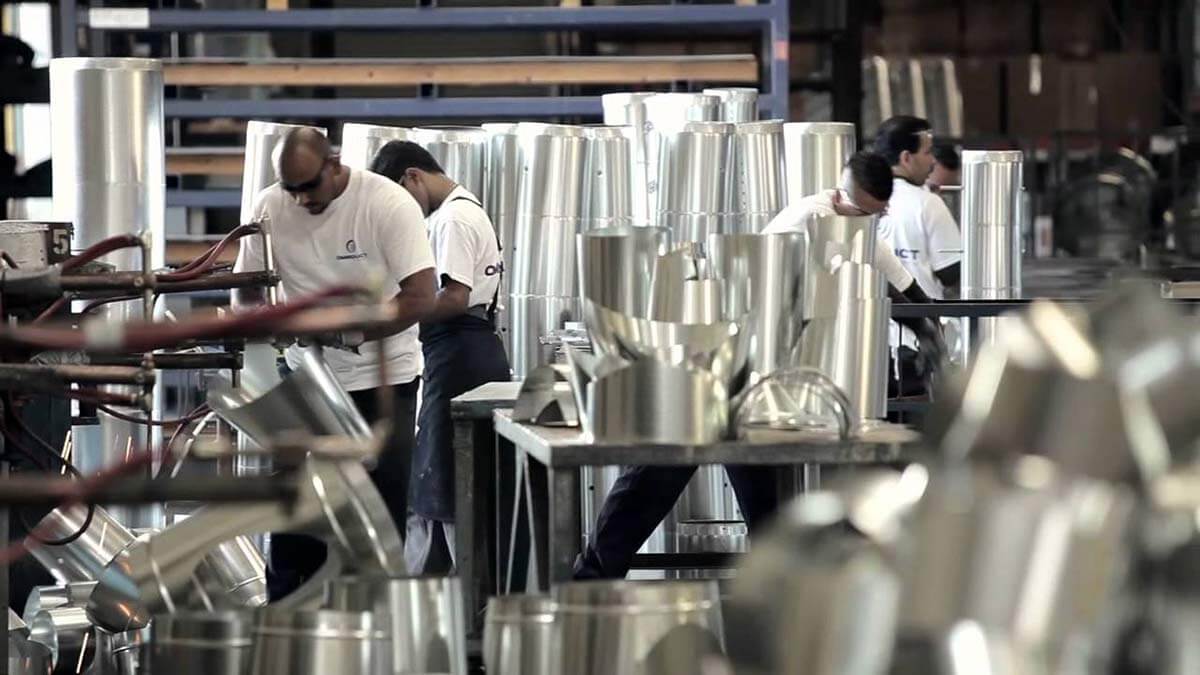 OmniDuct is the largest commercial HVAC ductwork manufacturer in the United States. With five factories located across the western states, the company has specialized in fabricating high-quality ducts and shipping them directly to commercial job sites for over 25 years.
It's also a values- and mission-driven organization, and employees throughout OmniDuct take pride in the creative and innovative solutions they supply to HVAC contractors working on projects in a wide array of industries.
When it came time to switch to a new managed service provider, OmniDuct's leaders knew they needed to find someone they could trust. "Not every company is values-driven in the way that we are," says Kevin Peck, Director of Systems and IT at OmniDuct. "Integrity, caring and stewardship are our core principles. We really try to live by them and incorporate them into all of our business practices. We wanted to work with an MSP that we could rely on, and with whom we could develop an exceptionally strong relationship."
OmniDuct chose VectorUSA in part because key employees already had relationships with members of OmniDuct's team, so Peck was confident that VectorUSA would be a good fit, and that the teams would have a strong rapport. But VectorUSA staff also went the extra mile to be helpful and forthright, demonstrating that their team shared OmniDuct's core values. "I'm a relationship guy," says Peck. "I always knew that Vector had my back. They kept in touch, they helped me personally as well as professionally. They were there for me. Even late at night."
In addition, OmniDuct was about to embark on a large and complex cloud migration project, and required an IT partner with the employee resources and technical expertise to support them throughout the process. With several dozen highly skilled engineers on staff, and experts in everything from SQL database design to C# development, VectorUSA fit the bill.
"They've got depth," Peck explains. "Just name an area of IT, and you'll find that their staff has multiple people with expertise in it. Anything I need, they know about it."
Strong collaboration has the power to move mountains—and data "Cloud migrations are like marathons, not sprints," Peck explains. "There are multiple phases in the project, and each requires forethought, planning, and a strong problem-solving process."
OmniDuct's decision to migrate all data and applications to Microsoft Azure came about because the company wanted to be able to exploit a new revenue stream—while supplying a valuable service to smaller companies within the HVAC sector—by adding managed IT services to their portfolio of offerings. To become an MSP, OmniDuct would need an IT infrastructure that could be readily accessed from remote locations, an objective that couldn't be attained easily or securely with their aging on-premises servers and network.
In addition, OmniDuct planned to upgrade its enterprise resource planning (ERP) software. Previously all plants had been running on a single instance, but efficiency and productivity could be increased by splitting the organization into three separate companies, each running its own instance and reporting back to the parent.
All in all, this was a complex undertaking involving multiple steps and several phases. So far, in collaboration with VectorUSA, OmniDuct has reached every project milestone on schedule. "Vector helped keep us on track," Peck says.
Today, one hundred percent of OmniDuct's IT infrastructure is hosted in Azure, which gives the company full confidence in the fault tolerance and resilience of its systems. "If there were an earthquake, a fire, or a brownout, we wouldn't have to worry. Microsoft simply can do a far better job of protecting our business data than on-premises servers can," says Peck. They're also seeing the benefits of a reduced administrative burden. With their infrastructure in the cloud, and VectorUSA extending their team's ability to configure and manage it, OmniDuct's IT department is able to spend more time on higher-value projects, including customizing the ERP platform to better meet their plants' needs.
A reliable and trustworthy partner
VectorUSA has worked beside OmniDuct throughout every stage of the cloud migration project, providing consulting and advisory services as well as technical assistance. "Understanding the cloud services that are available, and comparing the prices of the various options is no easy task," says Peck. "Would a one-year, two-year, or three-year contract be the most cost-effective? How will we handle software licensing fees? What sorts of hardware do we still need to invest in? When it came time to answer these questions, Vector was there to help."
It's in this area—helping OmniDuct compare costs, and assisting the company in setting and staying within a budget—that VectorUSA's trustworthiness has been most important. "When you engage with an MSP, you need to be confident that you're going to be treated fairly," says Peck. "With Vector, I can trust that they'll do what they say they'll do, and I can trust that they won't do what they say they won't. When we sign a contract, it's something I can believe in," he adds.
OmniDuct prepares for a bright future
With their new ERP solution set to go live in the coming weeks, OmniDuct is looking forward to the upcoming launch of their MSP services, scheduled to take place on January 1, 2020. "We're excited that we're going to be able to help other companies in the HVAC industry become more efficient," says Peck. "We want to be able to support lean manufacturing, as well as to meet our own KPIs."
VectorUSA has already proven a worthy partner to OmniDuct, and both companies anticipate a highly productive and long-lasting relationship. "Vector's team doesn't shy away from the tough conversations," says Peck. "That's what enables us to grow our relationship with them. As we do, our collaboration just gets better and better."
The most productive and valuable relationships between MSPs and their clients are those that are long-standing and solid, but also prepared to evolve as markets and technologies change. After two years together, the partnership between OmniDuct and VectorUSA continues to exemplify this dynamic. "I can trust Vector to always do their best," Peck says. "It's how we work through challenges that makes all the difference. There's a willingness to grow the relationship on both sides."
To the members of OmniDuct's team today, VectorUSA feels less like an external service provider than it does an integral part of their organization. "Vector simply seems like an extension of my team," says Peck. "Whenever anything comes up, they have it covered. I know that if I left OmniDuct tomorrow, Vector would continue to take care of our needs."