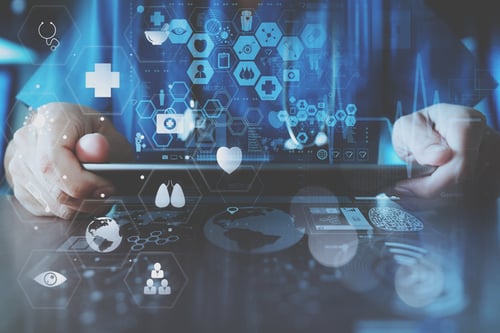 The wave of compassion, strength, and resilience that people have shown during the difficulties of this global pandemic showcased the best in our communities. Unfortunately, this time has also exposed the fact that cybercriminals are willing to be creative, aggressive, and increasingly complex when it comes to exploiting technical vulnerabilities in order to make a profit.

One of the sectors most affected by these divergent trends has been healthcare. In fact, hacking incidents in the healthcare industry jumped 42 percent year-over-year in 2020. This led to more than 1 million people being affected by healthcare data breaches every month in 2020, according to the U.S. Department of Health and Human Services.

With this trend showing no signs of slowing, what can your healthcare organization do to thwart would-be cybercriminals?

The answer is to not only have a cybersecurity program but to be cyber-resilient. Here are the reasons this tactic is more essential than ever before.
1. Move your organization from reactive to proactive.
By the time your security team is notified of a data breach or unauthorized access, it's already too late. As threats evolve and attackers move beyond low-hanging fruit, businesses need to combine training with layered defenses, advanced threat detection, and ongoing testing to move to a proactive security posture instead of a reactive, break-fix mentality.

The right combination of tools, training, and testing can help your organization build a resilient cybersecurity program that still enables efficient customer care.
2. Meet the increased security expectations of patients and the corner office.
In a time when data breaches, ransomware, and advanced cyberattacks regularly lead news cycles, customers and executives are more aware than ever of the need to keep data and assets safe and secure.

In turn, corporate boards and executives increasingly see inadequate cybersecurity measures and the risk of cyberattacks as threats to their brand and bottom line. In fact, cybersecurity was selected as the second-highest source of enterprise risk according to a Gartner study, behind regulatory and compliance risk.
3. Protect your continually expanding attack surface.
The rapid rise in a remote and mobile workforce during the global pandemic introduced new ways to sustain business and serve customers, but it also coincided with a dramatic change in an organization's attack surface, or the type and number of potential points where an attacker can access a system or data.

For example, as of 2019 the average employee used 4.9 connected devices at work, including their own personal devices—and that number continues to rise. This volume of devices adds to the complexity of keeping access to sensitive systems and data contained, creating even more of a need for a program that:
Specifies policies around acceptable use of devices
Identifies access controls standards and responsibilities
Captures connected devices and validates proper configuration and user access
Balances security standards with the need to maintain business continuity and employee productivity
4. Mitigate the increasing cost of a data breach.
If the other reasons to establish and maintain a strong healthcare cybersecurity program do not motivate your organization and management team, perhaps one of the most startling statistics in the field will: According to a 2021 study, the average total cost of a data breach increased by nearly 10 percent to $4.24 million, the highest ever recorded.

Trends like these can drastically change the business case for a cybersecurity program and help to prove just how much return on investment there can be for improvements in an organization's security program.
Protect your practice and your patients with updated healthcare cybersecurity.
Unfortunately, given the trends of 2021 and the ongoing effects of COVID-19, it is clear that security threats will only continue to grow, especially in the healthcare sector, an industry already under a lot of stress.

This is why it is more important than ever to plan ahead and lay the foundation for a secure and resilient cybersecurity program. Luckily, you don't have to go this path alone. Your organization can partner with an experienced team that understands your field, the evolving cyberthreats you face, and the tools and elements needed to protect your practice and your patients from falling victim.

Ready to get started? You can read more about the cyber trends that are shaping healthcare cybersecurity and the security field as a whole in our latest resource, Cybersecurity Trends and Threats to Watch for.