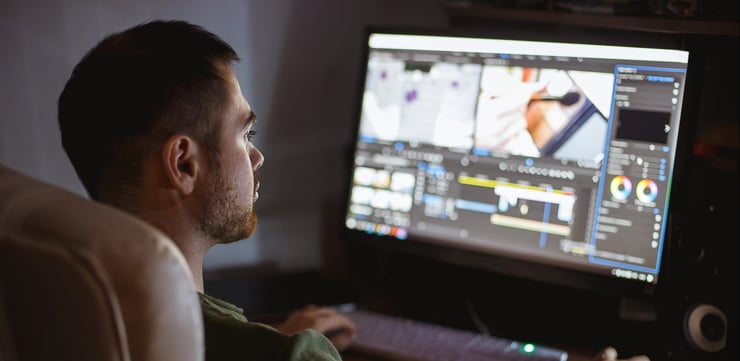 2020 taught us definitively that quality and innovative audiovisual technology is crucial for business success. While many relied on audiovisual (AV) equipment to stay in touch with colleagues, friends, teachers, students, and family, others used the technology to find new ways to get work done.

Building on these recent advancements—and just how much AV technology has integrated itself into our daily lives—we wanted to bring you a roundup of some of the interactive AV products you won't be able to go without in 2021.

Here are some of our top audiovisual finds to keep an eye out for.

Evolutions in Digital Signage
From maps in retail, to advertisements and community and corporate notices, digital signs (both touchless and interactive) have seamlessly integrated themselves into our daily lives. These tools are becoming just as common as paper-based notices and even staffed kiosks.

In light of public health recommendations and growing concerns for green initiatives, we see the use of digital signage continuing to grow, moving more into education, entertainment, and corporate environments as a way to quickly and easily share information. With their ability to be remotely updated and not only to make content more vibrant, but also easier to read, we expect digital signage to be more and more prevalent in 2021 and beyond.

Reliance on Broadcast-Quality Microphones
Whether they were making corporate announcements, recorded lectures, or even conversations with friends and colleagues, casual microphone users have discovered the benefits of using broadcast-quality microphones.

In addition to providing better sound and recording quality, many broadcast-quality options are now more accessible without the professional-grade cost. These solutions, which helped businesses and schools create, record, and engage remotely in 2020, should continue their growth in 2021.


Hybrid-Friendly Video Conferencing Meeting Rooms
Prior to 2020, integrated computer cameras, webcams, and meeting rooms outfitted with video conferencing systems were slowly gaining popularity as a collaboration and cost-saving option.

However, building on their profuse use in 2020, and in preparation for the workforce planning to return to the office for at least part of the time, organizations are beginning to prepare their spaces to accommodate more remote and in-person meetings. Along with that comes more investment in user-friendly and accessible equipment audio management tools, room-integrated microphones, and improved screens.

Next-Gen, Internet-Ready Phone Systems
Investments in voice over internet protocol (VoIP) phones quickly paid for themselves, with their flexibility and ability to leverage cheaper internet connectivity. But now the next generation of internet-ready phones and smart displays are entering the marketplace, replacing both more traditional phones and even or VoIP devices.

For example, some options integrate the ability to seamlessly participate in and manage both virtual meetings and regular voice calls. In addition to making virtual meetings and calls easier to manage, these devices help users to save valuable screen space and alleviate computer processing speed.

Keeping You Ahead of the Curve
2020 was certainly a year that AV solutions became more than just a professional tool; they were a key part of our day-to-day lives. And as teams become more used to these forms of interaction and communication, advanced audiovisual solutions will become more and more common in the years ahead. When properly implemented, quality AV not only facilitates more productive meetings and interactions, but even a better quality of life.

If you want to learn more about how to integrate the latest innovations in AV into your organization, we would love to talk with you! Contact the team at VectorUSA today.